Read my extended coverage of Harlem Vaccine Forum here.
***
October 19, 2019 — Robert F. Kennedy Jr.'s microphone was cut-off about 10 minutes into his speech at the Riverside Church in Harlem, NY.
The event was outstanding with over 500 people in attendance with standing room only. When RFK was cutoff Mary Holland came and spoke to Curtis Cost who was running the event. I heard her say it will cost $2500 for the extra time (the event had gone overtime at that point) and RFK said he would pay for it.
However that didn't solve the problem. Eventually another employee of the church came and got on the mic and told everyone the event was being closed down because it was over capacity.
That was a lie.
The event had been over capacity the entire time.
However one of the parent-activist speakers then told me "Andrew Wakefield is here and is supposed to speak."
I can't confirm this was true, however I can say that this parent was close with Curtis Cost who was the main organizer of the event (Update – Andy Wakefield was not at the event in Harlem but he was scheduled to speak via Skype)
The Riverside Church is like a city within itself. There are many factions. The church is very diverse and is mandated to reflect the community they serve; that means they have many different types of events – conservative, progressive, Republican, Democrat, Internataional, etc… I have worked with the Riverside Church back in 2003 up to 2006 planning social justice events. I remember sitting in meetings with many church stakeholders, thinking everyone was on the same page. When I left the meeting those on my side informed me there were many different agendas in the meeting room that I was unaware of. Did we witness vying factions within the church shutdown the Harlem Vaccine Forum?
What was RFK Jr. doing right when his microphone was cut? He was naming names – names like Paul Offit, Tony Fauci, Francis Collins, Kathleen Stratton and he was making them look very, very bad. RFK detailed phone calls he had with Paul Offit that made Offit look like an utter liar. I wonder if any of these names make up donors to The Riverside Church?
Much of this is unknown and may remain that way. Regardless of all of this the event was outstanding, and I will have a full report soon, no later than tomorrow.
Here is what RFK had to say about the situation on his Instagram account.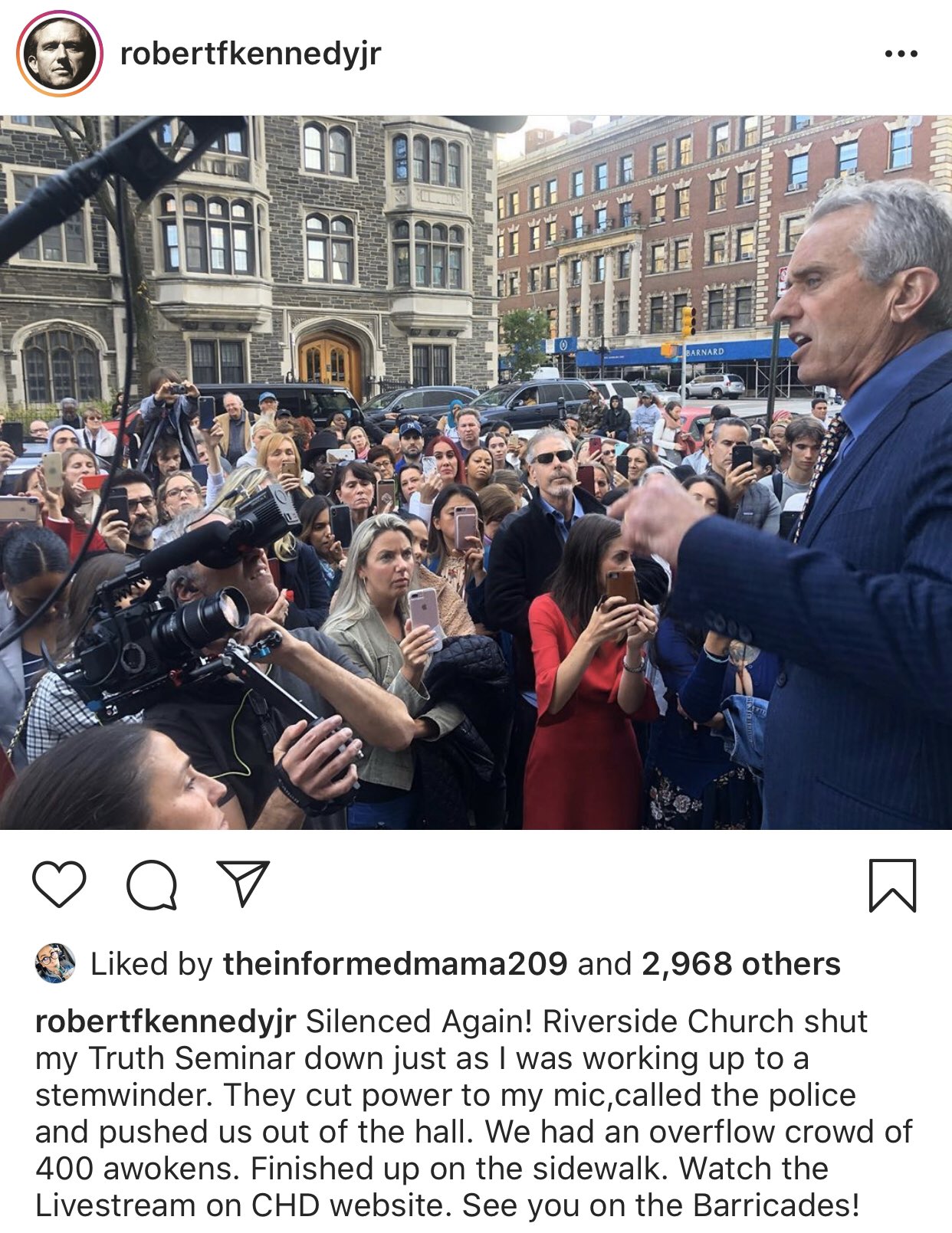 ***Update*** November 2, 2019 — From Erin Elizabeth of https://www.healthnutnews.com/ She tweeted "Andy wasn't there (at the Harlem Vaccine Forum). He had just watched my presentation at the truth about cancer where we were both speakers with his better half supermodel Elle MacPherson. He did not attend the New York Event.
Thanks for clearing that up Erin!